Why Choose Illumeo?
The CPE marketplace is competitive. With over 1,300 NASBA approved CPE providers it is a genuine struggle for most to find their place in the market. You may hear about the Variety of Courses, Quality Content, Unlimited Access, Best Pricing, Industry Leader, Value beyond just CPE Credits!! and more - it can be confusing to understand what actually makes for the best CPE learning experience. We are going to dig in on these claims and bring you some much needed insight.
Let's take a look at some leading platforms and their topic coverage
| | Illumeo | Becker | Surgent | Checkpoint |
| --- | --- | --- | --- | --- |
| Audit & Accounting | 282 | 98 | 50 | 189 |
| Excel | 112 | 3 | 14 | 23 |
| Ethics | 78 | 47 | 38 | 34 |
| Tax | 79 | 130 | 35 | 188 |
| Finance | 278 | 18 | 5 | - |
| Internal Audit | 100 | 90 | 1 | - |
| GRC/Risk | 174 | - | - | - |
| Others & Total | 1500+ | 500+ | 150+ | 550+ |
These numbers make it clear that Illumeo has both the largest course library and the best topic coverage. We don't only review our courses every year and update or retire them if needed, we and our more than 250 practitioner instructors build and launch over 300 new courses every year. You always get current knowledge from experienced practitioners.
Unlimited Access & Pricing
Illumeo
Becker
Surgent
Checkpoint
1500+
Courses
in


$299

440+ Courses |$299
Any 16 CPE Credits |$225
400+ Courses |$249
525+ Courses |$399
1200+ Credits|$499
500+ Courses |$309
600+ Courses |$454.35
7500+ Credits |$799
500+ Courses |$439
Competing platforms offer umpteen subscription options based on the quantity of content that you get access to. The bigger the name, the higher the price.
Do users get real value with the higher prices? What's the difference between a $299 and a $799 subscription if both provide a minimum of 40 credit hours? Why limit learning options? To make money? Exactly.
If Illumeo can offer over 1500 on-demand courses and over 80 live webinars a year, cover all functional areas, award instant CPE credits, offer value added benefits like self-assessments, CPE Compliance Monitor, personalized development plan, all those course reviews and direct interaction with instructors, all with a decidedly mid-range price, isn't it the best value? We offer simplicity of access and undeniable value. One price and no hidden costs for our on-demand courses and live webinars.
Quality
How do you define the quality of a CPE provider? Tricky, to say the least. It's surprising to see that many platforms don't tell you when a course was last updated. Fewer still give the name or bio of their instructors. And almost none have human verified course reviews, restricted to only those who have paid for and completed the course(s). On second thought, maybe it is easy to understand the quality of your CPE platform, just look for these things. If a platform does not have them, chances are there is a very good reason for that.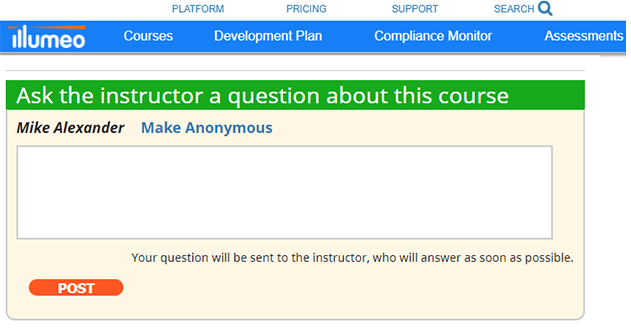 Interactive Learninig
Online learning is widely considered a one-way communication experience. Illumeo has redefined the concept of online learning allowing you to interact with our expert instructors. No other CPE provider gives you opportunity to consult with instructors, much less expert practitioners in their respective domains. Drop a query related to any course and our Illumeo instructor will get back to you within 48 hours. We go the extra mile to give our users an unmatched learning experience.
Real-Time Certificate Downloading
Time is a valuable asset. Some CPE platforms take time to provide CPE certificates, which may cause you to miss an important deadline. One leading platform takes 10 days, another emails their CPE certificates in 5 days, and still others are less than instant. At Illumeo, you can download your CPE Certificate right after passing your final exam.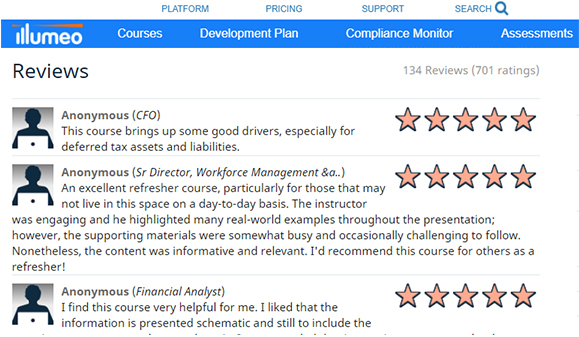 Reviews
Course reviews help potential subscribers and users know about real-world experience with a course. User reviews are one of the fundamental quality criterion for defining course quality.
Illumeo pioneered human verified course review publishing.
Most platforms simply don't publish user ratings or written reviews. How about being a lot more transparent there like Illumeo?
Value Beyond CPE Credits
Earning CPE credits with Illumeo has never been easier. We help you nurture your investment by keeping your skills and knowledge sharp through our various exclusive value added features including our CPE Compliance Monitor, Competency Self-Assessment with Course Recommendation Engine, and Personalized Development Plans. Moreover, Illumeo is qualified as a continuing education provider by the premier professional associations and certification bodies in accounting, finance and human resources. Our courses qualify for Continuing Professional Education (CPE) Certification and global cpe credits (known as Continuing Professional Development, 'CPD' or 'global CPD' credit).Our covered CPE types include certifications including: CPA, CA (Chartered Accountant), CMA, CIA, CRMA, CTP, FP&A, CISA, CISM, CRISC, CIST, CPP, CFP, and many more.
CPE Compliance Monitor
Illumeo's Compliance Monitor provides easy and accurate CPE tracking and guidance of all of your continuing education credits. Via our simple yet powerful tools, you can be confident about where you are and what you have left to learn and earn in CPE credits.
At Illumeo, we continue to add features at regular intervals, making our ever-developing platform the leading professional learning and CPE/CE provider.
Your Satisfaction is Guaranteed

Subscribe with the comfort of knowing that all purchases are backed by a 100% money back guarantee. This 30-day guarantee gives you plenty of time to try out courses, download supporting materials and evaluate your experience. Refunds Policy
Continuing Education is a lot more than just adding up training hours and CPE providers have a lot on their shoulders. Larger than life claims may boost sales figures but won't help a user's career development; something that we at Illumeo take very seriously. This is the reason why you see professional development support tools like self-assessment and development plan. No other competing platform offers such capabilities to their users.
Illumeo is the most transparent CPE platform; with verifiable reviews, instructor interaction, course enrollment counts, last course update placed on every course page - we have nothing to hide. Most importantly, we know our limitations; we are not yet a globally renowned brand but we are definitely knocking that door. Keep an eye!
*The subscription is for 365 days of access to the Illumeo subscription course library. Your subscription will automatically renew at its annual anniversary for the discounted price you paid on this special deal. You can cancel your subscription renewal at any time by following the instructions here.