The LMS for CPE
World-class learning and CPE
for CPAs, Audit, Accounting, & Finance




















Trusted By Leading Global Companies
Leading companies know that managing and developing expertise is key to building productive teams filled with highly engaged professionals. With over 250,000 hours of highest quality training delivered, Illumeo is working with people and organizations like yours, right now. Contact us now to arrange a demo so you can see how it will turbo-charge your business.
Request a Free Corporate Demo or Trial
Illumeo's LMS for CPE is a revolutionary new approach to learning with CPE credit. It's better than traditional LMSs, most of which offer no CPE, and much better than telling your people "Figure it out on your own."
With Illumeo, your people get access to a massive course library with CPE, extensive reporting for the individual and the company, and either standalone use or integration into your company's primary LMS - all for far less than you're paying now. Let us show you how simple it is...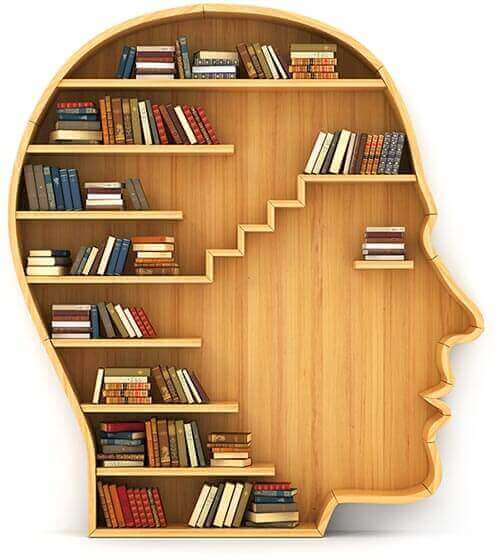 Enterprise Class Learning - and CPE
Most companies are filled with certified professionals who have been forced to find functional training and CPE (Continuing Education) credits outside of the corporate HR/L&D umbrella because 'traditional' LMSs don't provide deep, functional learning, and fewer still offer CPE. This forces the professionals in these functions to find their own learning and CPE solutions, costing everyone in wasted time and money, and moving a large and influential group of employees out of the realm of L&D's professional development reporting and accountability, and into very expensive and untrackable third-party learning programs.

Illumeo brings the benefits of a global LMS to HR/L&D and the ease of centralized, global CPE to the core professional disciplines of Finance, Audit & Accounting, Internal Audit, and HR, with nearly 1,000 courses and over 25 types of CPE, along with non-CPE courses in Marketing, and Sales. Whatever you need to know to be an expert at your job, you can find it here - with CPE.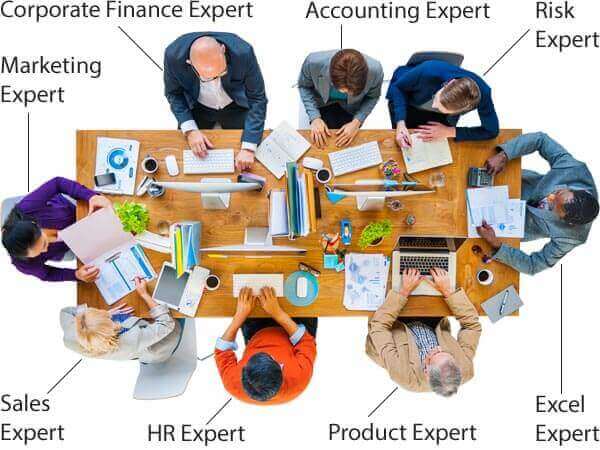 More Than Just CPE - Gain Expertise
To become an expert, you need to learn from experts. Illumeo courses are developed and presented by professionals with an average of over 20 years' real-world experience. Furthermore, companies can easily load their own courses to capture and share critical corporate knowledge, and provide CPE for those courses as well.

With Illumeo's assessment and planning tools, everyone quickly discovers their own path forward and gets the professional development needed to make themselves, or anyone else, an expert.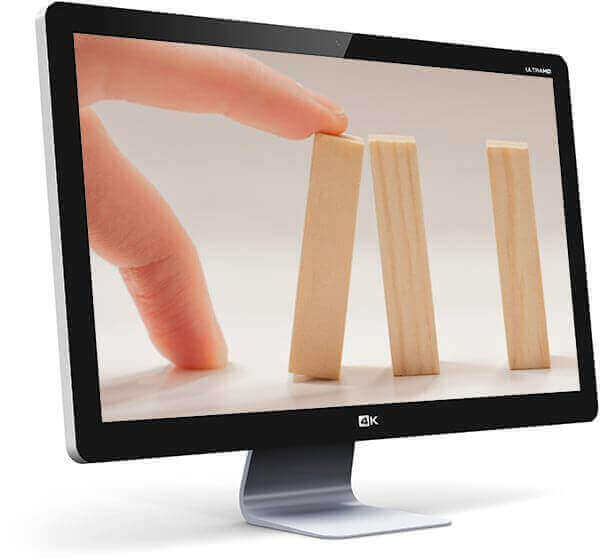 Online On-Demand, Webinars, and Live In-Person Training
Professional Development isn't a one-size-fits-all proposition. Illumeo solutions help you solve real-world challenges via online, on-demand learning with 5,000 educational videos ranging from two minutes to ten hours, more than 100 live Webinars annually, and via Live, In-Person Training delivered by our more than 200 expert instructors at the location of your choosing, globally. If you see a course on the platform, it and any related topics can also be taught live and in person.

Illumeo covers a wide range of learning needs for corporate professionals including: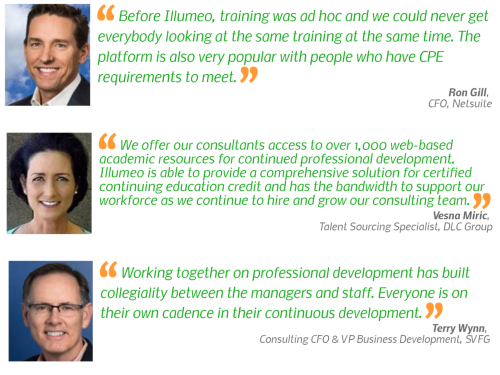 Our Users Love Us!
Illumeo has both corporate and individual users, and after more than 50,000 course ratings and reviews, the verdict is in: they love the platform, our instructors, and our courses.

No one has time to waste these days and you are no exception. Rest easy knowing that our user and client satisfaction are both sky high, and that we provide a money-back guarantee for all users. Not much in life is risk-free, but illumeo is. Let us solve your learning and CPE problems and get to work for you.

See More Testimonials.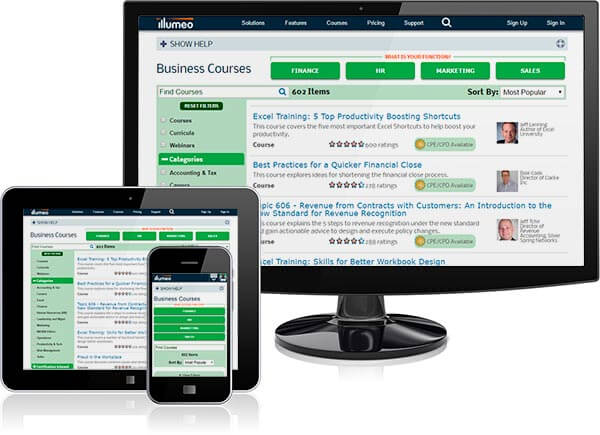 Try Before You Buy
Illumeo is equally compelling for individuals and companies alike. Whether working independently, or as part of a team, any professional can become an expert using the Illumeo Expertise Management platform.

Experience the power of Illumeo's world-class platform and courses by signing up for a FREE PERSONAL TRIAL or a FREE CORPORATE TRIAL of up to 1,000 employees. See for yourself the quality and cost effectiveness of Illumeo's global platform.

Explore the platform