CPE
Compliance Monitor™
Simple, Powerful, Complete. Compliance with Confidence.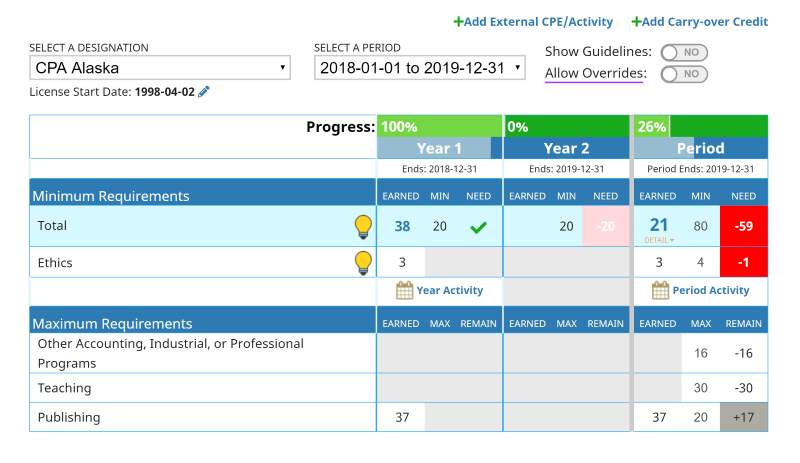 Peace of Mind
Compliance and CPE management is serious business. Maintaining certification is of critical importance to the people who rely on their professional credentials for hiring and career advancement.

Illumeo's Compliance Monitor™ provides easy and accurate CPE tracking and guidance of all your continuing education credits – whether earned on Illumeo or elsewhere. Via our simple yet powerful tools, you can be confident about where you are and what you have left.

Supported Designations as of 2019-04-24
Alabama
Alaska
Arizona
Arkansas
California
Certification in Risk Management Assurance (CRMA)
Certified Identity and Security Technologist (CIST)
Certified in Risk and Information Systems Control (CRISC)
Certified Information Security Manager (CISM)
Certified Information Systems Auditor (CISA)
Certified Internal Auditor (CIA)
Certified Management Accountant (CMA)
Certified Red Flag Specialist (CRFS)
Colorado
Connecticut
Delaware
District of Columbia
Florida
Georgia
Hawaii
Idaho
Illinois
Indiana
International Continuing Professional Development IES 7 (CPD-IES7)
Iowa
Kansas
Kentucky
Louisiana
Maine
Maryland
Massachusetts
Michigan
Minnesota
Mississippi
Missouri
Montana
Nebraska
Nevada
New Hampshire
New Jersey
New Mexico
New York
North Carolina
North Dakota
Ohio
Oklahoma
Oregon
Pennsylvania
Puerto Rico
Rhode Island
South Carolina
South Dakota
Tennessee
Texas
Utah
Vermont
Virginia
Washington
West Virginia
Wisconsin
Wyoming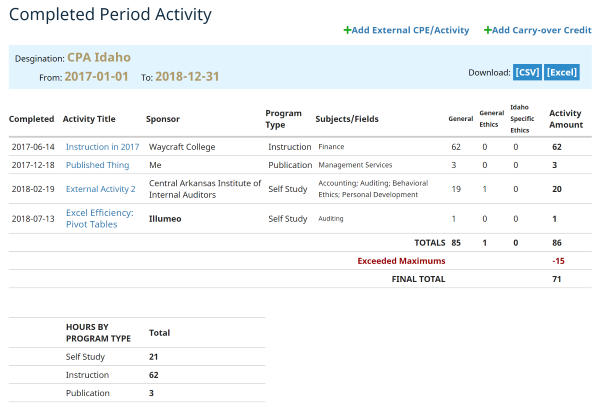 Advanced CPE Compliance Tracking
The CPE Compliance Monitor™ understands the rules of your jurisdictions/designations. It is updated to keep up with the changes. The system can automatically allocate CPE credits to your designations so you don't have to micro-manage exactly how each credit is applied for a designation requirement. Various reports show your progress and what you need to meet a requirement or how much you may have exceeded a limit.
A Complete Monitoring Solution
Effective continuing education monitoring requires the coming together of many disparate elements into a seamless, easy-to-use whole.

Illumeo's Compliance Monitor™ solution brings those elements together, providing powerful capability with a straightforward user experience that simplifies what was once an onerous task, fraught with risk.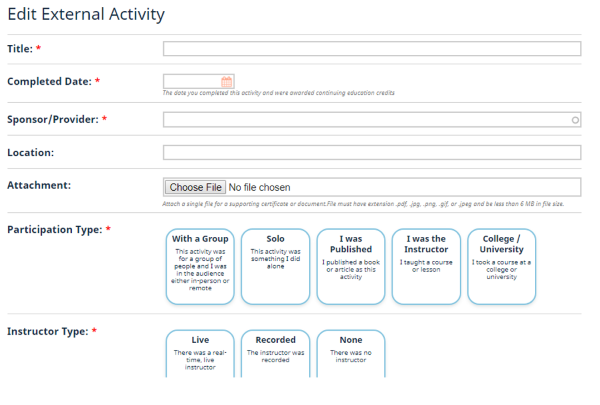 Our Courses, Their Courses, Conferences, Everything!
We know that you get credits wherever you can. Now it's incredibly easy to track CPE no matter where you get it - even adding external CPE to our CPE manager couldn't be easier. Add it, allocate it, track it, and see where you stand. We've simplified and shortened the process for you to make it faster than ever before.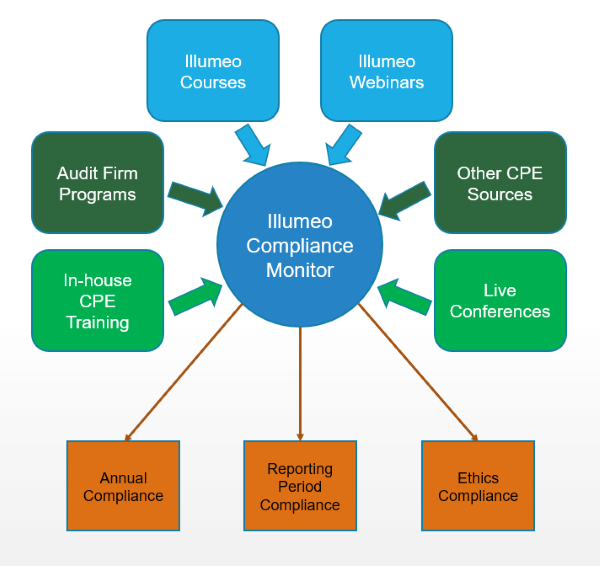 All Your CPE Needs, All In One Place
Illumeo turns the hassle of CPE compliance into a much simpler proposition. We do this by providing you everything you need in one easy to use platform.

Illumeo has competency assessment, our course recommendation engine, a massive course library with thousands of CPE credits, dozens of certification types, and, of course, our CPE Compliance Monitor™. No more hunting high and low for credits, get it all here, track it all here, and sleep soundly.