course

New Course

1.0 CPE

Say goodbye to endless arguments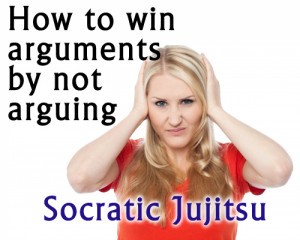 and conflicts and learn a revolutionary approach to disagreement with the online course "How to Win Arguments Without Arguing: Socratic Jujitsu". Led by expert instructor Jennifer Hancock, this course will teach you the Socratic Method, a scientifically backed approach to navigating any disagreement without argument. With practical exercises, and real-world examples drawn from some of the most contentious issues in modern society, this course is the perfect way to improve your communication skills and resolve conflicts in a dignified and productive way. Whether you're looking to improve your personal or professional relationships, "How to Win Arguments Without Arguing: Socratic Jujitsu" is the course you need to effectively communicate and resolve conflicts.
Course Overview
In this enlightening program, Jennifer dives into the latest research on idea formation and change to empower you with the tools you need to effectively navigate any argument. Say goodbye to heated debates and hello to productive discussions! Learn how to yield to your opponent and turn the conversation around with simple Socratic questioning techniques. Frame the underlying moral debate to your advantage and emerge as the victor without ever raising your voice. Embrace the art of persuasive communication and elevate your argumentation skills. If you're ready to win arguments without arguing, this course is a must-take!
Reasons to Take This Course
Improve Communication Skills: Socratic Jujitsu teaches individuals how to navigate disagreements without arguing, which can improve overall communication skills and help resolve conflicts more effectively.
Build Better Relationships: By using the Socratic Method to communicate, individuals can build stronger, more productive relationships in both their personal and professional lives.
Enhance Critical Thinking Skills: Socratic Jujitsu requires individuals to think critically and ask questions in order to understand different perspectives, which can help improve critical thinking skills in other areas of life.
Resolve Conflicts: The Socratic Method allows individuals to resolve conflicts in a dignified and productive way, which can lead to better outcomes for all parties involved.
Science-Backed Approach: Socratic Jujitsu is based on the Socratic Method, which has been scientifically shown to be an effective approach to communication and conflict resolution.
Learn from an Expert: Taking a course on Socratic Jujitsu gives individuals the opportunity to learn from an expert instructor, who can provide personalized feedback and guidance throughout the learning process.
Course Key Concepts: Humanistic Management, Socratic Method, Argument, Conflict Management, Professional Development, Soft Skills, Leadership.
Who should take this course?
Anyone who wants to learn the art of persuasion.
This course is particularly useful Life Coaches and Conflict Coaches (ICF).
Learning Objectives
Discover and understand what the Socratic Method is.
Identify how to use Socratic questioning to initiate and lead collaborative problem-solving sessions.
Identify how to create moral consensus by framing a conversation.
Last updated/reviewed: January 21, 2023
Prerequisites
Course Complexity: Foundational
No advanced preparation or prerequisites are required for this course.
Education Provider Information
Company:
Illumeo, Inc., 75 East Santa Clara St., Suite 1215, San Jose, CA 95113
Contact:
For more information regarding this course, including complaint and cancellation policies, please contact our offices at (408) 400- 3993 or send an e-mail to .