Certified Treasury
Professional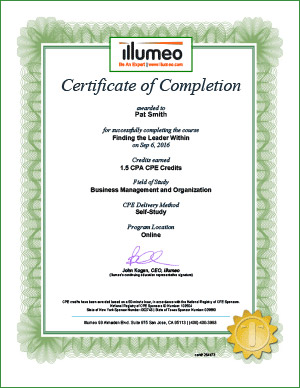 19 Illumeo Courses and many live Webinars meet the Association for Financial Professionals Certified Treasury Professional (CTP) CE program criteria.
CTPs earn one credit for every fifty minutes of qualified treasury/cash management continuing education activity. CTPs are required to provide documentation of credits if audited. AFP requires sponsors to provide verification of attendance to participants if and when requested.
Your Illumeo CE certificates and credits are managed through your Certificate Dashboard which is available when you are logged in to your account. Certificates can be downloaded as pdfs or you can email them to yourself at any time. All CE credits earned through Illumeo will be available through this dashboard.

Approved for 1 CTP recertification credit per 50 minutes by the Association for Financial Professionals.
CTPs are responsible for determining the number of credits earned based upon actual attendance, at the rate of one credit for every 50 minutes of qualified cash/treasury or finance related continuing education.
Certification Credit will be provided for a course if the enrollee successfully passes the final test with a score of 80% or better within one year of enrolling for the course.
The following are sessions that do not qualify for recertification credits:
Sessions specific to organizational products and/or sales
Fundamental or introductory courses in finance or cash/treasury management
Career development sessions not specific to finance or cash/treasury management
Business development sessions not specific to finance or cash/treasury management
CTP exam preparation sessions
Additional CTP Credits Available
According to AFP CPE rules, "CTP Content Eligibility: Any activity you attend where the content covers corporate finance, treasury, accounting, economics, or ethics, and is related to the body of knowledge in the Essentials of Treasury Management, is eligible for CTP credit. The activity does not need to be approved by AFP." Thus, although Illumeo has pre-approved CTP credit courses, any of our hundreds of courses in the aforementioned categories are eligible for CTP CPE credit.
Reporting
CTPs must report credits directly to AFP at the end of the recertification cycle. Credits should be submitted via the online Recertification Resource Center or the paper form found on AFP's Web site at www.AFPonline.org/recertguidelines. Documentation of credits is required if audited. CTPs and CCMs must retain documentation of their attendance for a period of two years after the end of their cycle in the event of an audit.