Certified Internal
Auditor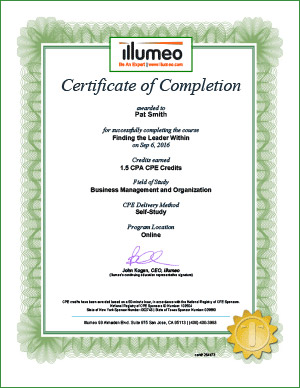 1720 Illumeo Courses meet the Institute of Internal Auditors Certified Internal Auditor (CIA) CPE program criteria.
Illumeo CPE courses have been developed according to NASBA and state requirements for CPAs for all 50 states. Contact the IIA if you have any questions concerning their CPE requirements.
Your Illumeo CE certificates and credits are managed through your Certificate Dashboard which is available when you are logged in to your account. Certificates can be downloaded as pdfs or you can email them to yourself at any time. All CE credits earned through Illumeo will be available through this dashboard.
Qualifying CPE Activities
It is anticipated that CIAs will maintain the high standards of the profession in selecting quality educational programs to fulfill the CPE requirements.
The following general criteria are to be satisfied in order for a continuing education program to be accepted:
The overriding consideration in determining whether a specific program is acceptable is that it shall be a formal program of learning which contributes directly to the professional competence of a CIA.
Acceptable formal programs should:

Contribute to the professional competence of participants.
State program objectives which specify the level of knowledge the participants should have attained, or the level of competence to be demonstrated upon completing the program.
State education or experience prerequisites, if appropriate for the program.
Be developed by individuals qualified in the subject matter and instructional design.
Provide program content which is current.
Be on a professional level and related to the Common Body of Knowledge.
The following general subjects are acceptable as long as they meet other CPE program criteria:
Auditing and accounting
Management and communication (oral and written)
Computer science
Mathematics, statistics, and quantitative applications in business
Economics
Business law
Specific business topics such as finance, production, marketing, and personnel
Specialized industry areas such as government, banking, utilities, or oil and gas
Activities other than those listed in this guidance may be deemed acceptable if the CIA can demonstrate that they contribute to professional competence. Substantiating that a particular activity qualifies as acceptable and meets the requirements is the responsibility of the CIA.
CPE credit will be awarded for whole hours only with a minimum of 50 minutes constituting one hour. As an example, 100 minutes of continuous instruction would count for two hours; however, more than 50 minutes but less than 100 minutes of continuous instruction would count for only one hour. Only class contact or acceptable self-study hours are allowable. For continuous conferences and conventions when individual segments are less than 50 minutes, the sum of the segments should be considered one total program. For example, five 30-minute presentations would equal 150 minutes and should be counted as three contact hours.
Required CPE hours
In accordance with the Institute of Internal Auditors, CIAs must earn 40 to 80 CPE credit hours per 2 year cycle, depending on license status.
Additional requirements may apply. You can review the specific CIA CPE requirements on the IIA web site.