course

New Course

1.0 - 1.5 CPE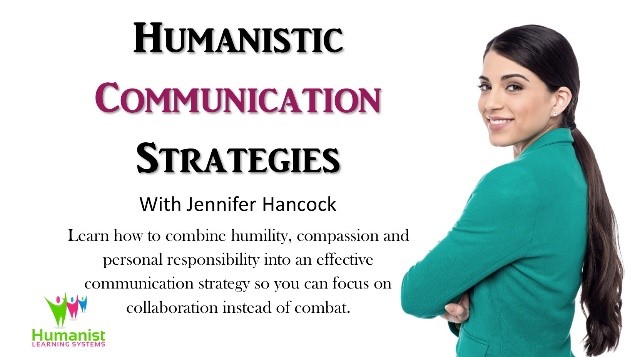 Do you struggle with communication in the workplace? Are you tired of conflicts and misunderstandings hindering productivity and causing interpersonal tension?
If so, it's time to try a new approach - Humanistic Communication Strategies.
In this online course, you'll learn how to combine humility, compassion, and personal responsibility into an effective communication strategy. By re-humanizing your interactions with others, you'll be able to resolve conflicts and build trust ethically, effectively, and compassionately. Say goodbye to combat and hello to collaboration!
Through this program, you'll discover specific communication strategies that you can employ in any situation, regardless of what's causing the communication problem. It's all about taking personal responsibility for your behavior and making the necessary changes to fix the problem.
Don't wait for others to change - join this course and take control of your communication skills today. Build stronger relationships and achieve greater success in your professional and personal life.
Program Description:
Looking to improve your communication skills and build stronger relationships in the workplace? Our Humanistic Communication Strategies course is designed to help you do just that. By combining humility, compassion, and personal responsibility, you'll learn how to communicate effectively and collaboratively, while also resolving conflicts in a compassionate and ethical way. Through practical communication strategies and a deeper understanding of empathy and respect, you'll gain the tools you need to build strong, positive relationships with coworkers, clients, and colleagues alike. Sign up today and take the first step towards becoming a more effective and compassionate communicator.
Benefits of Taking this Course:
The Humanistic Communication Strategies course offers a range of benefits that can help you succeed both personally and professionally, fostering stronger relationships, more effective collaboration, and greater personal growth.
Improve your communication skills: By learning effective communication strategies and gaining a deeper understanding of empathy and respect, you'll be able to communicate more effectively and collaboratively with coworkers, clients, and colleagues.
Resolve conflicts compassionately: Conflict is an inevitable part of any workplace, but with the tools and strategies provided in this course, you'll be able to resolve conflicts in a compassionate and ethical way, avoiding escalation and building stronger relationships in the process.
Build stronger relationships: Through practical advice and real-life examples, this course will teach you how to build stronger, more positive relationships with the people you work with, fostering collaboration and increasing productivity.
Enhance your leadership skills: Effective communication is an essential component of successful leadership, and by mastering the strategies taught in this course, you'll be able to lead more effectively and inspire others to do their best work.
Develop a deeper sense of personal responsibility: By taking ownership of your communication habits and reactions, you'll develop a stronger sense of personal responsibility, empowering you to take control of your interactions with others and achieve your goals more effectively.
Topics Include:
Respect and Dignity
On Being Human
The Golden Rule Understood
The Impact of Compassion
Communication Strategies

The World Doesn't Revolve Around You
Step Back and Listen
Don't Win, Solve Problems
Don't Fake It
Course Keyword Concepts: Humanistic communication, Humanistic Management, Communication strategies, Collaboration, Conflict resolution, Respect, Dignity, Active listening, Personal responsibility, Authentic communication, Problem-solving, Golden Rule.
Learning Objectives
Identify and develop effective communication strategies that prioritize problem-solving and active listening over winning arguments or proving a point.
Explore and understand the importance of authenticity and honesty in communication and learn how to communicate authentically without compromising your values or needs.
Discover and practice stepping back and listening actively to others, in order to better understand their perspectives and build stronger relationships.
Explore what it means to be human, and how acknowledging our shared humanity can help us approach communication with more empathy and understanding.
Last updated/reviewed: March 30, 2023
Prerequisites
Course Complexity: Foundational
No advanced preparation or prerequisites are required for this course.
Education Provider Information
Company:
Illumeo, Inc., 75 East Santa Clara St., Suite 1215, San Jose, CA 95113
Contact:
For more information regarding this course, including complaint and cancellation policies, please contact our offices at (408) 400- 3993 or send an e-mail to .