Yellow
Book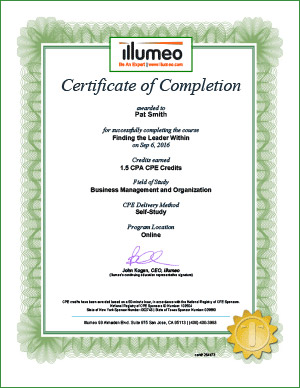 250 Illumeo Courses are approved and qualified for GAGAS Yellow Book CPE credit hours (CPE).
Your Illumeo Yellow Book certificates and credits are managed through your certificate dashboard which is available when you are logged in to your account. Certificates can be downloaded as pdfs or you can email them to yourself at any time. All Yellow Book CPE credits earned through Illumeo will be available through this dashboard.
Educational Activities Approved for Yellow Book CPE
According to the GOVERNMENT AUDITING STANDARDS 2018 Revision, Sections 4.16 through 4.53, Auditors who plan, direct, perform engagement procedures for, or report on an engagement conducted in accordance with GAGAS should develop and maintain their professional competence by completing at least 80 hours of CPE in every 2-year period as follows: 24 hours of subject matter directly related to the government environment, government auditing, or the specific or unique environment in which the audited entity operates, and 56 hours of subject matter that directly enhance auditors' professional expertise to conduct engagements. Auditors should complete at least 20 hours of CPE in each year of the 2-year periods, and CPE used to fulfill the '24-hour requirement' may be taken at any time during the 2-year measurement period.
Determining what subjects are appropriate for individual auditors to satisfy the CPE requirements is a matter of professional judgment to be exercised by auditors in consultation with appropriate officials in their audit organization. When determining what specific subjects qualify for the CPE requirement, the auditors may consider the types of knowledge, skills, and abilities, and the level of proficiency necessary, in order to be competent for their assigned roles. Auditors may consider probable future engagements to which they may be assigned when selecting specific CPE subjects to satisfy the 24-hour and the 56-hour CPE requirements. The audit organization is ultimately responsible for determining whether a subject or topic qualifies as acceptable for its auditors. Live webinars and individual self-study, web-based programs and activities qualify for GAGAS CPE hours, provided they are in subjects or topics that qualify as GAGAS CPE.
More specific CPE subject guidance is available via the official Yellow Book CPE guidelines, most specifically in sections 4.23 and beyond through section 5.