Live Educational Webinar
How to Prepare and Present Powerful Presentations
11:00 AM - 12:00 PM (Pacific)
1 Hour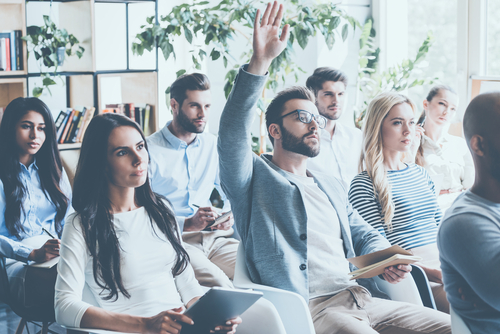 Free Live Webinar
Free CPE
Non-sponsored Events mean you never listen to a 3rd party sales pitch – it's all just great education
Expert-instructor-led learning with live Q&A
Based on a great course on Illumeo
Patricia Fripp President, FrippVT
Are you losing sales that you feel you deserve to make? Could you benefit from a competitive edge? Do you feel the sales presentations skills of your competition are better than yours? When your prospect compares you to your competition and everything else seems similar, your sales conversations and presentations make the difference.
The objective of How to Prepare and Present a Powerful Sales Presentation is to increase your effectiveness, persuasiveness, clarity, buy-in, and results. Developing consistently good speaking and presentation skills sets you apart from your competition. This course teaches sales professionals how good presentations become great. The techniques are all designed around getting buy-in for their ideas, dynamic openings, strong structure, emotional connection, memorable examples, and razor-sharp specificity.
You can
preview this course on our site.
Learning Objectives
After attending this event you will be able to:

Identify the number one secret of connecting to your prospects.

Explore ways to connect intellectually and emotionally with every prospect and how to structure your sales presentation around your prospect's priorities.

Discover ways to open and conclude every sales conversation and presentation with impact.

Identify how to develop and dramatize an arsenal of stories and examples.

Explore ways to add to your credibility through the power of specificity and how to improve listener buy-in for your point of view.
Speakers

Patricia Fripp
President, FrippVT
Patricia Fripp, CSP, CPAE, is a Hall of Fame award-winning speaker, sales presentation skills trainer, in-demand executive speech coach, and on-line training expert. Meetings and Conventions magazine named her "One of the 10 most electrifying speakers in North America." Kiplinger's Personal Finance wrote that ". . . the sixth best way to invest in you is to learn presentation skills from Patricia Fripp."

Moderated by Jennifer Robbins
Illumeo Webinar Manager
Jennifer is a marketing specialist and the webinar manager for Illumeo. She has been a part of more than 200 webinar presentations, supporting our expert presenters and Illumeo users alike. When she's not moderating webinars, she's creating and managing marketing content.