Live Interactive Webinar
HANDS-ON: Pivot Table Workshop
12:00 PM - 02:00 PM (Pacific)
2 Hours
Interactive Webinar

A unique webinar designed to interactively teach you a skill or concept with a hands-on approach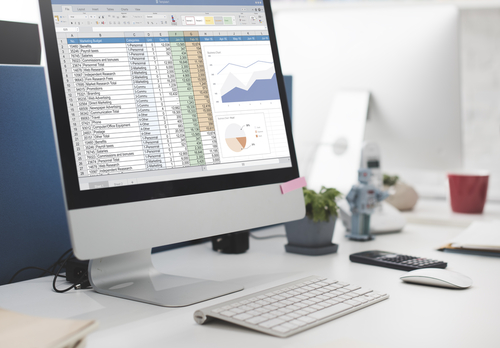 Interactive Webinar with live learning and hands-on practice
Guided learning
Ask questions and immediately get answers from the Instructor
Understanding is built step-by-step
Walk-throughs, repetition, and exercises are used
Real-world examples and careful explanations
Documents and material provided before the session
Your webinar is recorded and available anytime for you to review and practice
David Ringstrom President and CPA, Accounting Advisors Inc
In this innovative two-hour session Excel expert David Ringstrom, CPA, brings a new approach to learning Microsoft Excel. Unlike traditional webinars where you listen passively, this session will have purposeful breaks for you to try out techniques following along with David and asking questions as we go.
David starts out by walking you through quickly filling in gaps within data that you wish to analyze with a pivot table. From there you'll learn how Excel's Table feature can eliminate a data integrity risk within pivot tables, as well as streamline pivot table management. You'll learn how to audit pivot tables to make sure that all data is included, and you'll follow David through three different approaches to performing calculations with pivot tables. You'll see how filtering data in pivot tables becomes markedly easier with Excel's Slicer feature in Excel 2010 and later, and you'll gain hands on experience with Pivot Charts.
David will provide an overview and then demonstrate each feature or technique, and then will pause the presentation to give the audience time to try the technique first hand while following along as David goes through, step-by-step. Q&A is ongoing, just as in an 'in person' environment, but you get to learn from wherever you are.
Topics to be covered include:
Transforming unwieldy data into the format required for pivot table analysis quickly and easily.
Using Excel's Go To Special command to easily select form controls you wish to remove en masse.
Using a simple keyboard shortcut to post the same formula to multiple cells at once.
Learning how the Table feature can vastly improve the integrity of pivot tables in Excel.
Mitigating the side effects of converting a table back to a normal range of cells.
Determining at a glance if you're seeing all available data for the fields included on a pivot table or not.
Drilling down into within a pivot table with a double-click—or preventing other users from being able to do so.
Incorporating calculations within or alongside pivot tables.
Filtering data faster by way of the Slicer feature in Excel 2010 and later.
Learning Objectives
After attending this event you will be able to:

Identify methods for quickly filling in gaps within data you wish to analyze with a pivot table.

Discover techniques that improve the integrity of pivot tables

Explore how to create a macro to automate repetitive pivot table-related tasks
Speakers

David Ringstrom
President and CPA, Accounting Advisors Inc
David H. Ringstrom is a CPA and owner of Accounting Advisors, Inc., an Atlanta-based spreadsheet consulting firm that he started in 1991. David speaks at conferences on Excel and presents scores of webinars each year. He is an author and served as the technical editor for over 30 books on accounting software. Some of his freelance articles on spreadsheets have been published internationally.

Moderated by Jennifer Robbins
Illumeo Webinar Manager
Jennifer is a marketing specialist and the webinar manager for Illumeo. She has been a part of more than 200 webinar presentations, supporting our expert presenters and Illumeo users alike. When she's not moderating webinars, she's creating and managing marketing content.